GNBank eStatement Enrollment Information
From the Online Banking Dashboard, select an account.
When the account opens, you will see the menu below on the right side of the page.
Select Documents

From the Documents menu, click on Enrollment.


Complete the Enrollment steps.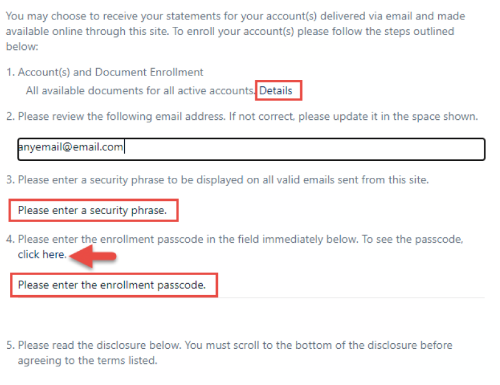 1. Click on "Details"
The following screen will open. You may enroll all or only one of your accounts for Electronic Statements. Once you have completed your selection by placing a check mark (√) on the accounts you wish to enroll, click on Save Settings.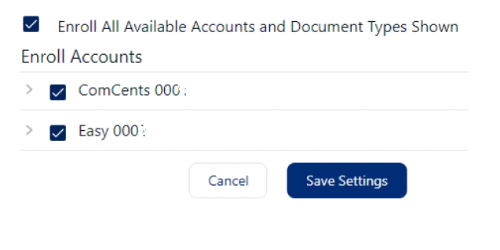 Verify your Email address in Step 2 is correct. If it is incorrect, click on the Email field and enter the Email address you would like to use.
Step 3 - Click on "Please enter a security phrase"
A box or line will open to allow you to enter a security phrase.

Step 4 – Click "click here" to receive the enrollment passcode, and then enter the passcode.
Step 5 – Read the Electronic Statement Disclosure and Agreement.

You must use the scroll bar on the side to scroll to the bottom of the Electronic Statement Disclosure and Agreement. After reading the agreement, check (√) the box that I agree to the listed terms. Then click on Enroll Now.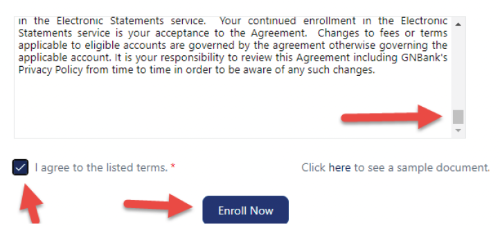 An Enrollment Confirmation screen is displayed if you have successfully enrolled. To clear, click OK.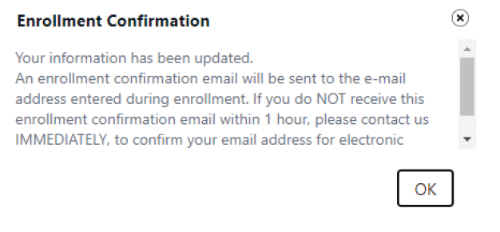 If you have one or more accounts already enrolled in Electronic Statements, you can follow these steps to enroll additional accounts.
From the initial screen (shown below), select Sign Up/Changes.

This will open a screen that has a list of your accounts that you can enroll in electronic delivery.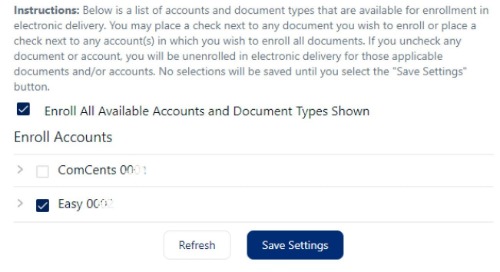 Once you have selected the accounts you want to enroll, choose Save Settings at the bottom of the page.
Agree to the Electronic Statement Disclosure and Agreement for the additional account(s) you have enrolled by clicking I Agree.